FROM THE ROAD: CHAPEL HILL, NC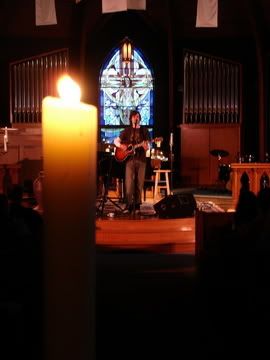 (Pictured above: Me at Christ Methodist Church in Chapel Hill, NC)
Tonight's concert was just minutes from Duke University, and the divinity school where Stanley Hauerwas, one of the most influential theologians in my life, teaches Christian Ethics. His book
"Resident Aliens"
and a couple collections of his academic essays have created more unrest, change and maturity in me than any other writings. The margins of his pages are marked with questions and exclamations, disagreements and yahoo!s, dog-eared and torn. I still don't understand it all or agree with what I do, but I'm thankful that God has used him to upset me and fuel a spiritual growth spirt in me that birthed much of my next record.
But Stanley wasn't in the crowd tonight. Instead the generationally mixed group of mostly young adults that usually attend
Evolution
came to the church for their normal weekly meeting time - and got abnormal me. 7PM on Tuesdays these people fill the small sanctuary to sing, teach, learn, catch up and prepare to leave and BE the Church. I was asked to facilitate that time this week with singing and teaching around the beatitudes - the focus of my next record WHITE FLAG.
Before the show could be begin, while Michael Olson was still doing his whale-like warm-ups and I was getting dressed in my soft-rock uniform, Brian (road manager) got a call from nature.
It was a small restroom where he answered, a room with door doors though. One of them he locked after using it and the other he ignored, figuring it was just a closet or something. While doing what you do in such places that "closet" door opened and a woman on a cell phone stuck her foot and head into the bathroom causing Brian to let out a "Hey! Hey!" prompting said lady to back out quickly and allowing Brian to get back to his...business.

Brian stepped out of the bathroom and started relating this story to us wen the door to our green room (never green by the way) opened. It was the promoter for the show, the worship arts pastor there, with a smiling woman in tow. "Brian, I'd like you to meet our pastor, Pat."

It would be an awkward night of eye contact dodging for Brian.

I had a great night though. I started by playing 30 minutes of the so-called "hits" from my last two projects (all three of them), Michael Olson then crooned for 20 minutes (did a great job as usual) and then I finished the night with songs and teachings from the new record.

Afterward we hung out for a couple hours, playing songs I couldn't fit in the show for a small group of people gathered around the piano, taking pictures and signing children.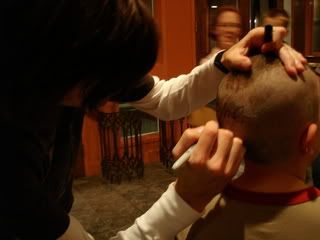 (Pictured Above: Michael (with the mohawk), the victim of rock star graffiti)

And I got to meet a few of Hauerwas' students who told me a little bit about the man Stanley Hauerwas, more than the words on a page can reveal. Turns out he's human. Good to know. Maybe even you and I stand a chance of being as smart and impacting some day as he's been to me.

Thanks to everyone who came out tonight. And thanks to Pastor Pat for trusting me with your people and giving me something to laugh at Brian for for the rest of his life. Southwest Airlines, thanks for getting us and our gear here in one piece. (Why can't you guys fly everywhere?) Loren, great job promoting and putting together tonight's show...and for killer dinner.

See you on the road.

Got thoughts? Discuss this SHLOG on my message-board